We are on a mission to turn every city into a Worm City, and thanks to Awards for All Big Lottery Fund we can make a good start!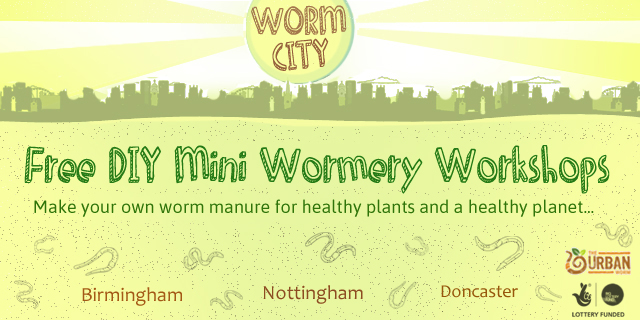 Worm the City!
We are on a mission to turn every city into a Worm City, and thanks to

Awards for All Big Lottery Fund we can make a good start!
This summer we are spreading the worm love beyond our home city of Nottingham, delivering workshops equipping communities with the worms and worm knowledge to succesfully transform their kitchen scraps into the finest organic fertiliser known to humans, worm manure aka 'Black Gold'.



With the majorty of the world's population now living in cities the ability to feed ourselves within the urban environment is key to enabling our communities to thrive in the face of adversity. Through collective community action we can begin to create sustainable societies that recognise the value of organic waste and the importance of growing healthy, nutritious food locally without the need for harmful synthetic fertiliser that cost the earth.
Organic kitchen waste is an incredibly valuable resource, equating to 30 % of household domestic waste. Reducing the volume of food waste destined for landfill is a priority for tackling climate change and for promoting a circular sustainable economy. Collectively we can work together to build the foundations for growing food in the city by feeding the worms.

Join the worm revolution, help turn your city into a Worm City! Sign up to one of our free workshops, take home some lovable pets and learn all there is no know about looking after your worms, why they are so important and how to use worm manure in organic gardening.
Register for workshops here:
Birmingham
City Hospital Greenhouses
Western Road
Birmingham
B18 7QD
Sat 8 July 2017
14:00 – 15:30
comments powered by
Featured testimonial
My husband gave me worms for Christmas. I was thrilled!! Having met Anna and heard her present The Urban Worm, I was excited to have some of my own to deal with the dog poo in a ecological way. It was so simple to set them up, and they are thriving in their wheelie bin, producing a potent "worm juice" elixir which I gladly share with friends who have allotments and gardens. I always have a nice chat with them when I pop out to feed them. Every home should have one of Anna's wormeries, they are clean, green, and fascinating.

Top